I'm going to begin this post with two New York City skyline photos taken before 9/11/01, so have a look at these and stop a moment to remember . . .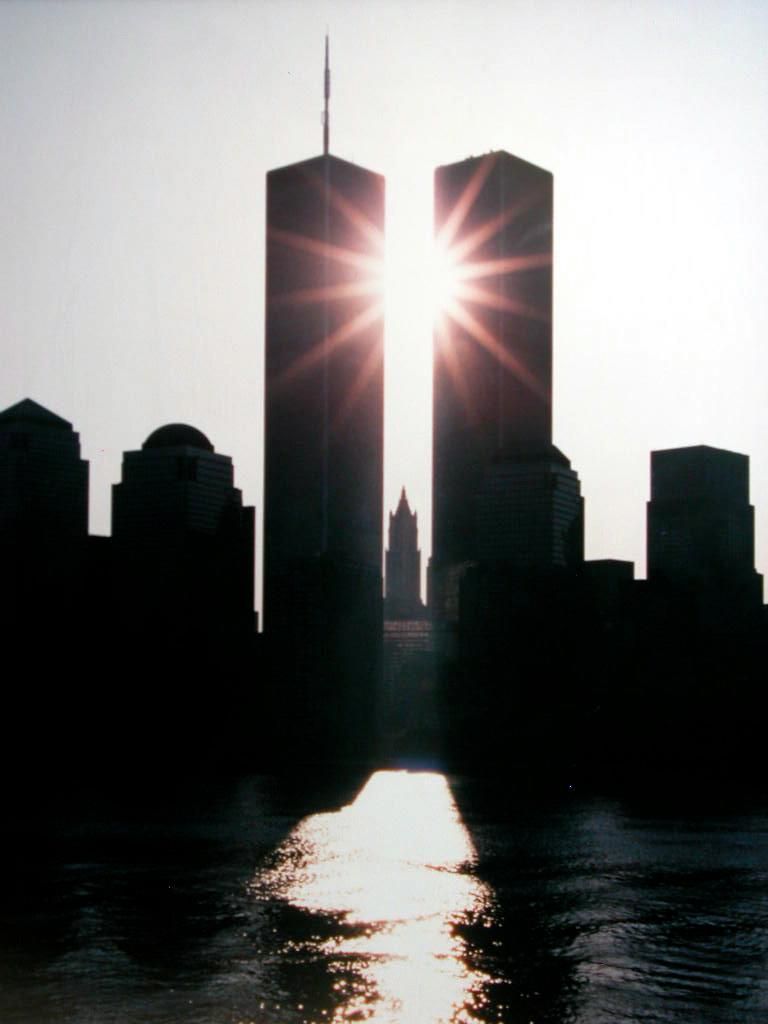 "Ten years ago I watched those beautiful towers fall. I sat on my couch and cried. Not just at the destruction of those landmarks, or from fear, or from anger, but at the loss of something precious that I will never be able to truly share with my children. - - What I will share with my children is what the towers stand for: Our freedom. A freedom that was hard-fought, that continues to be hard-fought, and that is something priceless. Freedom can be taken away; we take it so for granted, but it is not and has never been free. - - On 9.11.11 I will remember the towers. I will remember our freedom. I will remember those who died to grant us freedom, to protect our freedom, and to preserve our freedom. - - I know this day will be different for all of us, but I invite you to reflect and share your memories. I leave you with favorite photos of NYC before 9.11.01 at twilight with the twin towers lit in all their glory." - - exerpt from
The Studio
newsletter by Toiny Westberry
So appropriate that I had to post most of it for you, my peeps. Toiny's favorite photo is the middle one, and I added my favorite NYC skyline, the bottom photo, and another Studio member just added the top photo for us. Thanks, "rabbitrun"! The Studio's newsletters are so good, that if you aren't currently subscribed to them, you should do so. I always look forward to reading Toiny's personal stories and seeing the photos of her family while living the military life in Germany now.
Today also marks many other happier special events, so lets mention those also! HAPPY BIRTHDAY to my BFF, and you know who you are! I hope you have a very special day to remember! This is also my youngest DD's wedding anniversary, so to you, have a HAPPY DAY!
Last, but surely not least, this just happens to be my 100th blog post! Woohoo!! So to celebrate that, I have another
FREEBIE
for you, and I've also decided to have a little
fun contest
complete with a digi-prize! During a recent dabbling design session, I played around making colorful flowers, oodles of them! For you I picked out 27 of my favorites.
WARNING:
Some of them are pretty bright and cheerful! I figured this would help lift your spirits today! True to our American philosophy, we must keep our spirits high and keep on plowing forth to our dreams! So I hope you can find use for these to brighten up your scrapping pages; enjoy FLOWER FUN #1, and here's the preview . . .
DOWNLOAD

HERE
If the above download link is out of bandwith, try downloading

HERE

. There's been a huge response for this pack of flowers! Yeah!

Now, I'm not quite finished having fun, so keep reading! To further celebrate my 100th blog post, I'm having a contest for any of my faithful followers, and it's super-easy. I hope you are familiar with leaving a comment below this post. Do so, and also take a stab at guessing my middle name! Anyone who gets it exactly right wins and receives a
FREE digital download
of my
OVAL MONTH FRAMES
pictured below . . .Be sure to leave your name, your email if you want so I can contact you (or just leave your name and I will post a list of the winners in my next blog post and leave you my email so you can then send me yours, whichever you prefer). I'll even give you a couple of hints: My middle name has 7 letters and ends with E. Have fun! Can't wait to read all the submissions! LOL! This is wide open and there can be as many winners as get my middle name exactly correct and spelled correctly. So have at it! Here's what you'll win . . .
I think these frames are such a classy accent to add to a page, I love them! They've been available in The Mason Jar, but hopefully lots of you will win them now! Contest closes Sept. 18th, 2011, at midnight EST. That's a full week to find me and make your guesses!
Don't forget to leave me some love! The more love I get the more I give away! Talk to you soon!
TOOTLES!!